Overwhelmed by your planning? No problem!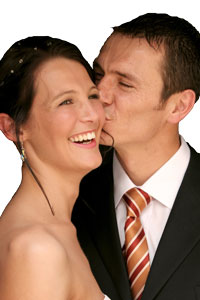 "Here is How to Plan Your Wedding step-by-step,
Avoid Stress & Mistakes and Save Money all along... Guaranteed!"




Unaware brides stressing for their wedding obviously
didn't know about this...



From the desk of:
Armand DuRosier

Paris, France



(click the green "play" button to hear a personal message from Armand)

Dear Lover,

If you'd like to prepare your wedding easily, step-by-step, without forgetting a thing or wondering how to deal with any aspect of your planning, then this might be the most important letter you'll ever read.



My name is Armand DuRosier. I've been organizing events for over seven years. From galas to music festivals to charity events. Then, I decided to apply my knowledge and experience to weddings. I've been working with many couples, helping them planning their dream day. Until after some time, I discovered most of them faced a common big problem...




Trouble is, when getting engaged, most couples barely have a vague idea about how to organize their wedding. Usually, they ask for advice everywhere, search the web for information, buy books... and end up spending a LOT of time just to determine the basics of what they need to know.




Or worse, they just follow wrong advice about what they should do, which usually ends up in a not so special dinner and a boring party that has nothing unique. I don't blame them : not everyone is born a party planner, nor has had experience in succesfully organizing this kind of events in their life...




Not to mention all the money lost every time because the unaware couple didn't know what they needed and let the vendors decide for them. Results : huge bills for things they didn't even wanted in the first place, but which they paid because they thought they had no other option...




Sound at all familiar?




This is why I decided to do something about it. I wanted to create a simple, yet extremely effective system that my clients could use. I wanted them to find their way easily in the wedding process and deal with all the aspects, without wasting days and dollars on useless purposes.




Truthfully, it was a difficult task to compile all these elements into one simple scheme that anyone could easily understand and apply.




But I knew there had to be a way - and I found it...




Announcing The "Make My Wedding Easy" System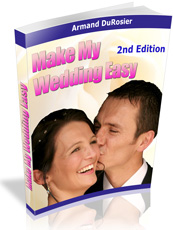 Who said planning your wedding has to be HARD ?
I've put together a proven method for you to plan a bright wonderful wedding in an easy and enjoyable way. And the most remarkable part is that it tells you step-by-step what you need to know and how to do it!
Wanna simplify your wedding planning? Good, try this...
Let me give you a few extracts from my book so you can see for yourself :
Well, inside the complete "Make My Wedding Easy" planning method, you'll get detailed exponations about everything you need to know and do at each step of your planning. All in a friendly, easy-to-read way that you can apply within just a few minutes.

Here is what you will discover inside the "Make My Wedding Easy" method:
The two essential aspects you must set before anything (If like many people you forget these, you're on the way to another boring reception) [page 13]



The real reason why you get stress and an easy way to avoid it (Once you find it, you will immediately relax and improve control over your planning) [page 9]



How to get a STUNNING dress for less than 500$ [page 44]



Three elements that are vital about how you choose your venue (Miss one of these and all your other planning efforts might just be worth nothing) [page 32]



The secret to inviting your friends even if you have no more money (Though it was impossible? Find how to think outside the box!) [page 47 ]



The 3 best sources to consider about financial resources (what if you could avoid to break your favorite pig money box?) [page 18]



The right way to choose your drinks (Most people handle this wrong... and pay the hard price for it!) [page 61]



The ESSENTIAL thing most couples forget to do on their big day (Altough it sets a great tone and is definitely pleasant...) [page 55]



Two big secrets to have your body in perfect shape for your wedding (you will be shocked at how easy it is) [page 22]



The most unpleasant part of your wedding which is almost mandatory (And the right way to get it run smoothly) [page 25]



A CLASSIC mistake that 84% of wedding guests do not want you to make (It is very easy to avoid once you know what it is) [page 51]



The four secrets to stay cool on your wedding day [page 55]



How to book wonderful venues for down to half the price (Or have a better one for the cost you planned originally) [page 34]



A common mistake you should avoid when choosing your bridal party (And why most people get it wrong) [page 27]



The 5 rules to an easy but higly efficient wedding diet (Hint: this has nothing to do with eating less) [page 23]



A key point you MUST check when meeting with a music band which is not how they play (This can make your night or ruin it) [page 37]



A classic mistake that you must avoid with your guests (Miss this one and some of them might turn VERY disapointed) [page 50]



What you need to check about your rings [page 45]



The 5 real ways to saving money (Tips are good but not enough. If you want big savings, you need to know these principles behind) [page 20]



How to create an atmosphere totally unique and personal to you [page 16]



Why a beauty institute is not the best solution to be pretty on this special day (And what you should look for instead) [page 53]



Wedding night tips... [page 56]



Two dress shopping preparation tips you NEED to think about [page 43]



Secrets to a smart, gorgeous yet cheap wedding cake (Most people spend a fortune here when you can get something really amazing for a lot less) [page 63]



Loads of tips to save money on each aspect of your wedding : photographer, catering, etc...



Special focus on how to have a green wedding (How to get married while keeping the planet in a good state for your future kids)



And much much more...
Okay Armand - So what's the cost for this incredible system?

Let's do a quick comparison - You could spend hours and hours looking for information piece by piece, never being sure of what is the right thing to do. Or you could let vendors decide for you what the best solution is and write a check for everything they ask you about.
Or you could hire a wedding consultant to work with you. The average price I charge for helping couples with their weddings is a minimum of 60$ an hour (which means between 1000$-3000$ for a full wedding). This way, I figure you're getting hundreds and hundreds of dollars worth of my experience inside this new program.
But I'm not going to charge you anywhere near that amount or even my minimum hourly rate. In fact, your total investment for the entire "Make My Wedding Easy" method is just $49.95.
SPECIAL DISCOUNT OFFER - I am currently running a promotion for a limited time. If you buy today, you will access the full method for the special price of $29.95. This is a temporary offer though, and the price is very likely to increase back to normal after Midnight .


Considering the average wedding in America costs around 27 000$, this represent around 1/1000th of your total expenses... Just for you to get all the information which is inside, this would be the cheapest deal ever.

But it is actually even better : considering all the money saving tips you'll find in the method, you will actually save money!
So what's the catch? Why am I practically giving this method away?
Well, it's really quite simple. Since you'll be downloading the manual directly from the Internet, I have no inventory and no fulfillment costs. I don't need to pay anyone to take the orders either (though you're welcome to email me at
support@makemyweddingeasy.com
to rest assured that I am a real person).
This way I can pass along my cost savings to you. So you win and I win. But don't worry, downloading the manual is a snap. I'm no "techno whiz" and I had no problem (The ebook works with both MAC or PC computers).
But I cannot promise I will stick to this price though. As I said, I am doing some promotion right now but the cost is very likely to increase to 49.95$ after .
4 FREE Bonuses For Ordering Today
Since I know it's 100% to your benefit to act right away, I want to sweeten the pot and give you every possible reason to say YES today! If you respond immediately, you'll also receive the following:
Free Bonus #1 - Your 30-Step Action Plan
Ever worried about forgetting crucial details?
Or wondered what is the next thing you should do?

This will not happen for YOUR wedding. This booklet will take you by the hand from wedding newbie to happy couple. For each step, you get a specific page with a list of actions to tick.

It is very easy to use, as it deals both with chronological and thematic aspects. Just follow the steps, tick the boxes and get ready to roll!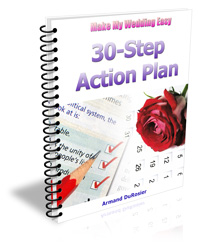 Free Bonus #2 - Budget & Guestlist Tools
(click pictures to enlarge)
Are you afraid of going over budget?

This Excel file is simple to use, and will allow you to perfectly control your finances.
Just fill in your expenses, and the tool will automatically calculate your totals, key indicators, who pays for each item and much more...
For many couples, guests are THE most difficult part to manage.

Use this easy Excel file to define who you want to invite, manage answers and stay up-to-date on who exactly is coming. This is a must have that will really simplify your wedding!
Free Bonus #3 - Dealing With Your Vendors
If you want to avoid bad surprises, have full control over your event and of course save money, you need to know exactly what to ask your vendors.

Creating the wedding of your dreams will be just too easy with these specific lists of questions concerning your venue, caterer or florist...

Just fill in the answers, compare and decide who you want to work with, under which conditions... Now YOU are the boss!
Free Bonus #4 - Special Surprise
I don't want to tell you too much about this special bonus. Let's just say it's a set of extra forms and tools which put together will allow you to remove any remaining stress while creating uniqueness on your wedding.

Be prepared... You're gonna love it!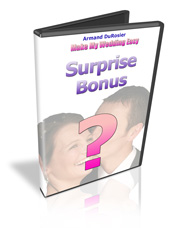 And if all this wasn't enough, here is something else...
You take no risk at all with my 60-Day Full Money Back Guarantee

I know this method is so complete and easy to use that you will be completely amazed at how much it will simplify your wedding. Nonetheless, I want to let you see for yourself, and try the whole manual entirely at my risk.
What I'm saying is, don't decide now if the method is right for you. Just get it and try it out. Once you've used the method to simplify your planning, save time and money, get new perspectives to set a wonderful event, I'm confident that you'll just NEVER want to send it back!
But if for any reason you were not satisfied, or it doesn't live up to your expectations, then you can get every dime of your money back under our fullproof guarantee. Just send me an email and I will immediately refund your payment. Right up to the final day of this 60 day guarantee. No questions asked, no hard feelings and no hoops to jump through.
This way, you have nothing to lose and everything to gain.
Is that fair or not? Aren't you tired of worrying about forgetting crucial details, exceeding your budget or holding a party that's not as fun as you dream of? If so, why not turning the time and money you spend into actively setting up your wedding the ideal way - without risking a dime, today?
Yes Armand! I want you to show me how to get the most wonderful, unique wedding ever in the easiest possible way. Please show me how to plan my big day step by step, in detail, while saving money all along!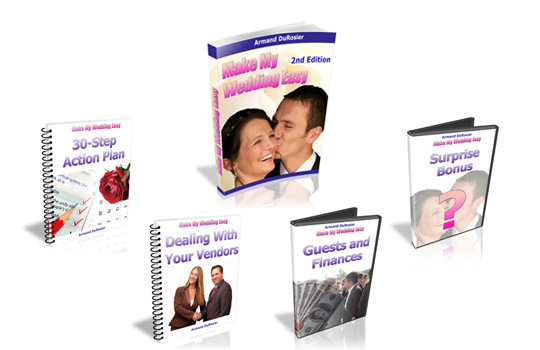 I understand that I will get the revolutionary "Make My Wedding Easy" system. Complete with the eBook, 30-Step Action Plan and all the practical Tools and Bonuses. The whole thing is completely downloadable on my computer so I can be trying it out in just a few minutes!
I also understand that the whole package comes with a full 60-Day Money Back Guarantee. So that if for whatever reason I decide the book isn't for me, I can get a full refund without any question asked. And even if so, I can keep all the bonuses for Free!
"Make My Wedding Easy "
$49.95 Only $29.95!






100% Guaranteed Safe & Secure
Download Instantly
Even if it's 2am in the morning!
I look forward to receiving a message from you about how successful you're doing with your wedding planning. I receive a lot of emails, but the ones from my customers always touch me particularly. Please write to me, whether you have any comment or a great story to tell about, I will be happy to read you!

To your wonderful wedding...

Your wedding coach
P.S. You'll be amazed at how easy it will become to prepare your big day thanks to the "Make My Wedding Easy" method. This easy, step-by-step guide and all the tools will save you time and money, while you set up an event your family and friends will remember forever. In just minutes, you can start using this method to plan a wonderful wedding... completely at my risk!
P.P.S. As I said previously, I can't guarantee you the price of 29.95$ will remain for long. It is very likely to increase to 49.95$ after . So don't wait and catch this opportunity while it's time...


P.P.P.S. Your wedding is approaching and you need to make a choice. Do you want to spend hours looking for solutions you may never find, spend money on things you don't need or take the risk of missing crucial details? Or do you want to start on the best track and start reading the method within minutes?
Again, you don't risk anything thanks to my complete 60-day no questions asked 100% money back guarantee. You're just one click away to start planning your weddding successfully!